Ethical tourism I
I'm planning a trip to Burma. I recently had to decide whether staying at a hotel owned by a government official clashed with my personal ethics and politics. Would you?
The God Thing, Hashed out over Brunch
For the IndieInk Writing Challenge this week, The Lime challenged me with "Like whatever happened yesterday" and I challenged R.L.W. with "Look up your Chinese zodiac animal. Write as though you are someone or something about to consume that animal." The God Thing, Hashed out over Brunch: I'm a Miranda. That is, in the "Sex and the City" spectrum of sexual proclivities...
5 tags
Watch
I thought I'd missed the timeliness boat for posting this video since Chinese New Year is supposedly over, but since the fireworks keep raging — even at 11:30 a.m. on a Saturday — I feel quite within the bounds of seasonal commentary. The Chinese people love their fireworks. The government severely restricts internet usage and child births, yet during Chinese New Year, all rules are tossed...
The Editing Process
A hotel in Saigon. The Great Wall of China at Badaling.
3 tags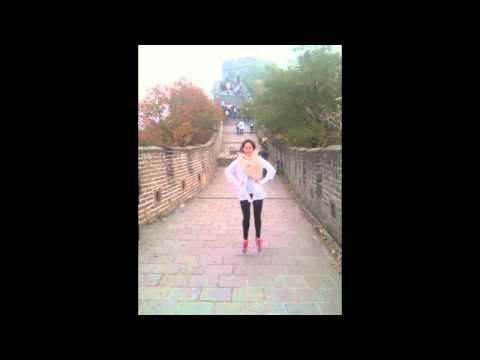 My oven
… goes to 11. Does yours?
Rudeness
One of the common consensus among expats in Beijing is that the Chinese are a very rude people, yelling and spitting all over town. I offer this portrait from a morning commute: a woman standing on a bus opens the window. The man sitting by the window leans over as she sticks her head out to cough out a wad. She pops back in, closes the window, and the man returns to his sitting posture without...
When #whitegirlproblems come into a new context
Finding a new outfit at a cheap retail store, buying sheets for a new apartment, grabbing a bottle of water on the run: all typical white girl activities, now elevated and satirized by the hashtage #whitegirlproblems, or more inclusive #firstworldproblems. They're usually hilarious and sometimes even enlightening, encouraging me to look at my immediate problem with new, humbler eyes. Being...
Kids
Here's a collection from my first two days at my new job: teaching 2-3 year olds. Since class only started Tuesday, though, my job has mostly been shutting up the kids wailing "mama" without end. I'm going to wait until the shock of being with small children for 7 hours a day wears off to write anything further on this. Here are the moments that didn't suck in...
"No flailing."
– My personal mantra for staying cool while travelling. I tend to chase my tail and have silent freak outs when I get lost and confused. I flail. Non-flailers stay calm and take action.
2 tags
Bicycles
A wise friend once said, "Everything cool in China belongs to the old people." The old people do the Tai Chi in the morning (badass) and the nighttime commie dances (flag waving included); they gamble irresponsibly at all hours of the day, and mark their turf by wearing PJ's in the street. They also ride the best, built-to-last bicycles. In America, these would draw top dollar...
Common question
People always ask me, "How do you stay vegetarian in China?" Answer: By not eating meat.
4 tags
2 tags
2 tags
Students say...
My students say things that fascinate me, tickle me and straight up offend my American sensibilities. Let me share. Today a young girl, aged about 13 years old, did not know who Hitler or the Nazis were. She did, however, know the word "vampire." If only her knowledge of American culture came from "True Blood" and not "Twilight," she would have known about...
"What should I do when I get robbed?"
– Student moving to Seattle soon for college.
3 tags
Keeping Count
Starbucks trips: 3 I think I'm doing pretty well so far. I've got a Bridget Jones-esque tally running in my head.
2 tags
Squatters' Rights
The squat. It's the Chinese version of the loiter. You're waiting for a friend, you're texting mindlessly, you're having a quick smoke, and you're squatting. I have squatter envy. I've tried it a few times: watching the propoganda video screen in Tiananmen Square, sipping on some yogurt. It's practical when you've been on your feet a while but...
3 tags
Haggling I
Nearly every purchase here leads to a discussion rather than a quick exchange of money.** I am trying my best to take a step back and appreciate how the Chinese add a social element to the act of buying that is mostly absent in America — except that I suck at it. This is not just because I haven't mastered (read: signed up for classes in) Mandarin. Just before I flew over the Pacific, I went to...
Two Weeks In
I moved to China two weeks ago. Right now, so much is unsettled about my life. My visa is still in the works, my Chinese has yet to move past 10 phrases, my iPhone continues to be on the fritz, and I still can't handle the Beijing heat with much grace. But, my moments of Aha! have increased greatly in recent days. Partially this comes from having a job and thus a sense of purpose in life. ...
TBD - a way of life
To be determined. This pertains to many things in my life right now, but let's just focus on the bits that will be explored in this blog. I'm moving to China in July. Duration and occupation are TBD. Purpose, friends, diet, wardrobe, romantic affairs, and life-changing realizations are also TBD. But, how else would I have it? I don't want Taco Tuesdays or Casual Fridays. No...